We will gladly take care of the apostille or legalisation for public documents issued in Germany.
We offer this apostille service exclusively for the use of German documents abroad.
The original document is required to obtain the apostille or legalisation. You can send it to us easily and securely as a registered letter.
We will be pleased to take care of all the formalities so that your German document is also legally recognised abroad.
When do I need an apostille or legalisation?
An apostille or legalisation is needed when a document needs to be used in a foreign country. Some countries will require an apostille or legalisation to certify that a certain document is genuine. The apostille or legalisation is often required for use in court proceedings, for registration with government bodies or for use by foreign companies.
This confirmation is made by apostille or legalisation
Apostille and legalization are forms of authentication issued to official documents for use in another country. 
Countries that have signed the Hague Convention of 1961 will accept an apostille. Countries that have not signed the Hague Convention of 1961 will require legalisation.
Procedure of the Apostille Obtaining Service
Please note that legalisation/authentication may take some time. In particular, we have no influence on delivery times and the processing time of the legalisation. So find out in good time which documents you need and whether they need to be legalised and/or translated.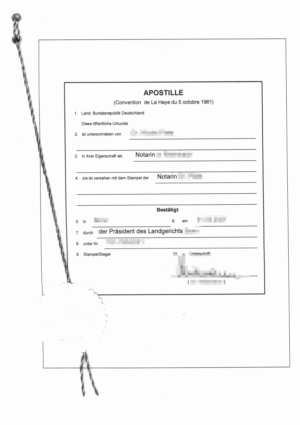 The Apostille Obtaining Service saves you time and nerves
You don't really know where to get an apostille for your birth certificate? Or you don't have time to take care of the legalisation of your divorce decree? 
Save yourself the time and use our apostille service. 
We take care of the legalisation. You can lie back and relax.
And best of all, while we wait for your apostille to arrive, we will take care of the certified translation of your documents. This saves you additional time.
We want to make your life easier with this service, so you don't have to worry about hidden costs. 
We will send you a fixed price offer. All fees and shipping costs are already included.
Special regulations in the European Union
Within the EU, many public documents are exempt from over-authentication. This means that if these documents have been issued by an EU state, they must be accepted without an apostille.
This applies, for example, to birth certificates, marriage certificates and certificates stating that a person has no criminal record. A detailed list can be found in the corresponding Regulation (EU) 2016/1191 on promoting the free movement of citizens by simplifying the requirements for the production of certain public documents within the European Union.
Request Apostille Obtaining Service
Send us your request for the Apostille Obtaining Service and sworn translation. We will get back to you immediately with a fixed price offer and explain the rest of the process.